Hacked client Liquid Bounce b71 for Minecraft 1.8.9
Hacked client Liquid Bounce b71 for Minecraft 1.8.9
- this is the latest version of the currently best hacked client that acts as a mod. It is ideal for most servers in the form of a simple hacked client, and it can also be a great addition to your PvP build, if you have one.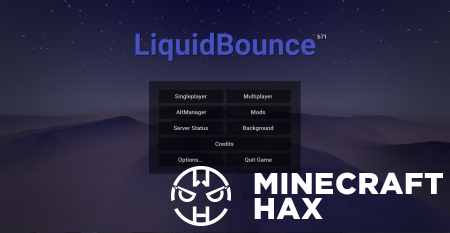 Now let's look at the description of this client from the author's words. After that, we'll fill it in with what he didn't tell us:
 - LiquidBounce is a so-called hacked client for the game Minecraft. Using such a client gives you significant advantages over other players. Unlike most alternatives, LiquidBounce is completely free, open source and compatible with Forge.
Scripting API

You think the client is missing a module or command? LiquidBounce's jаvascript API allows you to take care of that yourself! With just a few lines of code you can develop your own modules and share them with the community.

Highly Customizable

LiquidBounce allows you to customize the HUD according to your personal needs. So if you don't like the standard design, you can easily customize it to your exact needs.

Active Development

We are constantly trying to improve LiquidBounce by adding new features, modules and bypasses. Our goal is to develop the perfect client completely free of charge.

Free Download

We think quality does not have to be expensive and that is why we are offering LiquidBounce for free. No hidden costs, no premium features. Just go ahead and download the client.

Is LiquidBounce safe to use?

Yes, it is safe to use LiquidBounce. We can guarantee that it does not contain any viruses, adware, crypto miners or other junkware. Also, LiquidBounce is open source. That means the source code is freely available. So if we ever violate our own statutes, it would be noticed immediately.

How do I update the client?

LiquidBounce will inform you after launch if a new version has been released. To update, simply download LiquidBounce again and overwrite the old file in your Mods folder. The next time you start LiquidBounce, you should have the latest version installed.
We fully agree with his words, but we will Supplement them with the fact that the client's design has become animated. Now we are talking about the design of the main menu, not the design as a whole. Now being in the menu, you can travel through the night desert, which looks quite interesting.
Appearance:
The GUI menu opens to the right shift.  In it you will find more than 100 types of functions, each of which is powerful enough to easily win in any situation. In addition to the functionality, you can find about 50 commands that can be found by writing to the chat .help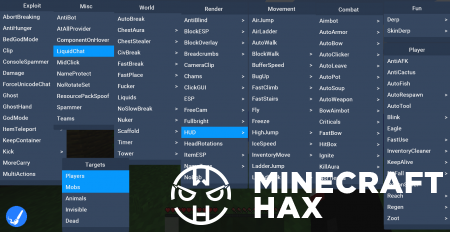 More:
Alt Manager hasn't changed either, even in appearance. You can also store your accounts in it, choose them independently or randomly. You can also change your nickname without saving it to the list. It works with both licensed and pirated accounts.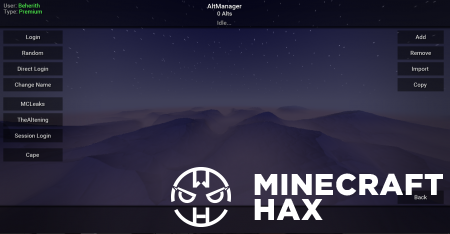 How to install Hacked client LiquidBounce b71 for Minecraft 1.8.9:


1. Download and unzip the archive using WinRar or Zip;
2. Install Forge 1.8.9;
3. If you have Minecraft open, you need to close it;
4. Click start, type %appdata%/in the search bar .minecraft/mods;
5. If you do not have such a folder, it must be created;
6. Transfer the file .jar with replacement close all Windows;
7. Log in to Minecraft, in the settings, select a profile called Forge;
8. Save it and then log in under this profile
Share with friends